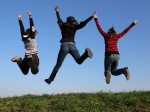 Do you know what it means to be in alignment?
The first couple of years, that I studied and practiced the Law of Attraction, I didn't!
I got stuck time and time again, when books, teachers, etc. said something like this:
In order to get what you want, you must first get into alignment with it
because I had absolutely no idea what they meant!
Today I do, and I thought it might be helpful to offer a description of it here on my blog.
What being in alignment means
Being in alignment first and foremost means feeling good.
It means that your thoughts and feelings are positive in relation to the thing/result you want to see manifest in your life. It means that you believe it's possible, that you think of it with pleasure and that you look forward to it with enjoyment or excitement.
You are not in alignment when you think of what you want as impossible, too difficult, too expensive, out of reach or "not for me".
Being in alignment also means that sure, you want it, but you are not attached to the outcome; you don't feel that you need to have it, before you can feel good.
If you feel that you need something in order to feel good, you are not in alignment. Instead you are actually focused on the lack of it (not having it in your life). As long as you give your attention to lack, that is what you will get more of – that is how the Law of Attraction works!
The more you can feel now as you expect to feel when you get it, the more in alignment you are.
Here is a more structured way of describing what it means to be in alignment:
YOU ARE IN ALIGNMENT WHEN:
you feel good
you are looking forward to the manifestation of it without attachment or need
you enjoy imagining it
you expect to get it
you are not paying attention to it not being there yet
you feel as if it is already there
YOU ARE NOT IN ALIGNMENT WHEN:
you don't feel good
you are attached to the outcome
you need it in order to feel good
you give your attention to the absence of it
you are constantly looking for it
you wonder why it has not manifested yet
you wonder what you are doing wrong