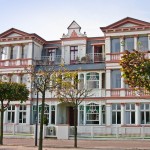 "should I be realistic in my asking?" is a question I often hear from my coaching clients, when we talk about their desires.
Actually, they often put it a bit differently, as in:
"But I should also be realistic, right?"
And my answer always is this:
"No, you should not be realistic, not at all!" 
Even if that is what most of us were taught!!!
And I do admit that it is not always easy to not be realistic.
However, the only thing that happens, when you try to be realistic, is that you limit yourself, and I see no reason whatsoever to do that!
So I would recommend that you simply pretend that EVERYTHING is possible. There are no limitations at all; you get to pick and choose. How does your life look, if you dare dream big?
Pretty amazing, right?